But every gal should hear that.
So as you can see my bloggity blog got QUITE the facelift!!
I owe it all to the WONDERFUL Hubby Jack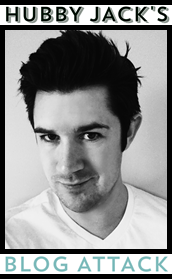 Go check out his handy work!
As a bigger girl, I had some serious body image issues. I didn't feel like I deserved to wear pretty clothes, and I didn't feel pretty in them. I hid behind supposed to be oversized shirts, plus size jeans, hoodies and sweats. Anything unflattering and not exactly cute, yeah I wore it.
Then as I've lost weight I've gotten a lot more comfortable in cute outfits. If you follow me you know, I live in workout gear but when I clean up, man do I clean up good! And you will usually find me in at least one piece of Kiki La'Rue clothing.
The only bad thing is I wish I would of found their clothes sooner. They offer sizes for EVERYONE.
Also if you follow me, you know I have many reasons to love them!
They are one of the best boutiques to buy from. They CARE SOO MUCH about their customers, they are helpful and they are not shy to do random acts of kindness!
I mean they are ALWAYS offering discounts, giveaways, sending out freebies, free shipping, they do it all!!!! They even do benefits! Gah They are just so amazing. The shipping is always fast and the best thing about getting a package is when you open it up and there is an extra piece in there that you didn't order, it sure makes you feel amazing!!
Now remember how I've been promising you complete awesomeness with a FABULOUS giveaway?!
TODAY IS THE DAY!
Kiki La'Rue is giving one of you lucky readers a $50 gift card!!! And on top of that a second winner will get a Kiki La'Rue Snowflake necklace!
They asked me to show off my favorite outfits and man I have a good stock pile of their goodies so Saturday the hubs and I went out for a photo shoot! Man did I feel freakin' BEAUTIFUL. Its amazing what a good outfit can do for your self confidence!
The Tis the Season Sweater (Med)
with Punky Brewster Leggings
The Mad About Plaid Top (Sm)
with Burgundy Ribbed Fleece Leggings
The Flash Dance Raglan Top (Med)
with Ribbed Fleece Leggings
The Ambiance Sweater (Lg), Bailey Infinity Scarf
with Double AA Cheetah Leggings
The Baseball Top(Med)
with Riverbend Leggings
The GEEK sweater (Med) with the Geek Glasses
with the Double AA Cheetah Leggings
The Take My Breath Away Top (Med)
with the Double AA Cheetah Leggings


Im also wearing the Snowflake Necklace and a Pair of their Pearl Earrings in each picture.
Winner announced Friday!
Now get to entering!!
And for those of you that can't wait til Friday
head over
and take
10% off
with this coupon code:
" JessiThinking10% "
a Rafflecopter giveaway
As always
-J
If you take one of these pictures for use as a giveaway entry, please give me credit, as these pictures aren't just of me, but The Hubs and I dabble in photography and we did take these pictures and did all the work.
This is a sponsored giveaway, they sent me the "Take my Breath Away Top" for review, but the opinions are all my own and Ya'll know I wouldn't lie to you!